Article 6
'Not Forgotten', the 1939 IRA bomb attack - by Simon Shaw
John Corbett Arnott aged 15.
Elsie Ansell aged 21.
Rex Gentle aged 30.
Gwilym Rowlands aged 50.
James Clay aged 82.

n 12th January 1939 the Irish Republican Army, claiming to be the "Government of the Irish Republic", issued an ultimatum to the British Government. It gave them four days to withdraw all British armed forces stationed in Ireland and declare that they would renounce all claims to interfere in Irish domestic policy. If they received no response, they said they would be compelled to intervene actively in the military and commercial life of Great Britain. Four days passed with no reply so a campaign known as the "S-Plan" was launched against Britain. This mainly involved bombing commercial premises, sabotaging electricity supplies, blowing up telephone kiosks, public lavatories, mail boxes and railway stations. Coventry was mentioned by name in the I.R.A. plans, which had singled out its electricity supply as a prime target. Civilians were not supposed to be targeted.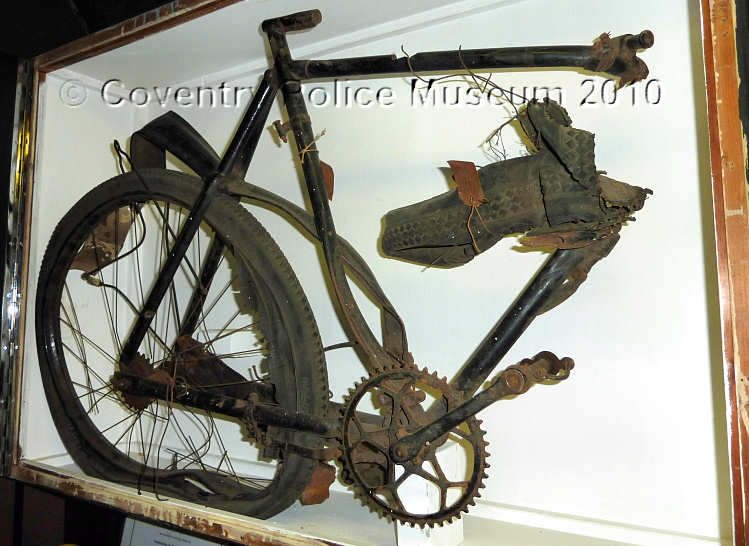 The remains of the bicycle, now in Coventry's Police Museum, Little Park Street.
(Photograph by Simon Shaw with permission of West Midlands Police. Unauthorised reproduction may result in prosecution.)
Unless you have a reasonably good knowledge of local history the five names at the start of this article will probably not be familiar to you. They are the forgotten victims of the worst terrorist attack Coventry has ever suffered. On 25th August 1939 all of them had the misfortune to be in Broadgate. It was a busy Friday lunchtime. Elsie Ansell, a shop assistant at Millet's in nearby Cross Cheaping, was on her lunch break and looking at jewellery in the H Samuel shop. She was due to be married a fortnight later. Gwilym Rowlands, known as Bill, was a road sweeper. He and his colleague (John Worth) were working outside Astley's and Burton's shops. John Arnott and Rex Gentle both worked at W H Smiths and were returning after their lunch break. Rex had changed his lunch hour so he could spend it with John. James Clay had left a meeting at a nearby cafe with a business friend earlier than usual due to not feeling well. This was the first time in six years the two friends had not left at the same time. Around 2:30 pm these people and many others were in the vicinity of Astley's shop when the normal hustle and bustle of the city centre was shattered by an I.R.A. bomb.
Ironically, in the city that is regarded as its British birthplace, a bicycle played an instrumental part in the mass murder and carnage that shocked the nation.
A typical Broadgate day in 1939 - just as it would have appeared shortly before the tragic event of August the 25th.
On Tuesday 22nd August 1939 James McCormick (alias James Richards), the leader of the I.R.A. unit operating in Coventry, and another unknown I.R.A. man visited the shop of the Halford Cycle Company in Smithford Street, where McCormick purchased a Halford 'Karriwell' - a tradesman type cycle built for Halford by the Birmingham Bicycle Company which had a carrier basket to the front of the handlebars. He gave a false name and address - Mr Norman, 56 Grayswood Avenue, Allesley Old Road, Coventry - and paid a deposit of £5 - pledging to pay the remaining 19s 6d on collection, which would be either Friday or Saturday. On the morning of Thursday 24th August 1939 another unknown I.R.A. man began constructing the bomb at 25 Clara Street, Stoke, Coventry. The house was being rented from Loveitt & Sons by Joseph Hewitt who lived there with his wife Mary, their baby child Brigid Mary and his mother-in-law, Brigid O'Hara. After marrying his wife at St. Peter's Cathedral, Belfast, in August 1935, Hewitt came to Coventry in 1936 to find work. His wife and mother-in-law soon followed. Their baby was born in Coventry in 1938. They moved to Clara Street from Meadow Street, Spon End in June 1939. James McCormick lodged with them. It was effectively a 'safe-house' for the I.R.A. where McCormick had constructed a concrete storage pit under the stairs a few weeks earlier to store explosives, but the Hewitt's were not part of the organisation. That evening, at around 7:00 pm, a Transport Officer in the I.R.A. called Peter Barnes arrived at the house from London. He had travelled by train and brought with him potassium chlorate to be used as the explosive in the device. Barnes' role in the I.R.A. was to ferry explosives from their main ammunition dumps in Liverpool and Glasgow to their operatives across the country. He left later in the evening and returned to London.
The unknown bomb maker completed his task the following morning. It was a 5lb device with an alarm clock used as the timer. The bicycle was collected from Halford's by McCormick at 12:30 pm and left in the back lane (known as a jetty) at the rear of the house around 1:10 pm. By this stage the bomb had been parcelled up in a box that was wrapped in brown paper and tied with a string. The bomb maker placed it in the carrier basket and began his journey into town. Sometime between 1:30 and 1:45 pm the bicycle with its deadly cargo was left standing against the kerb outside Astley's shop where it was to shortly explode with such devastating consequences.
Many victims of terrorism or political conflict are totally forgotten about once the initial outrage or shock has died down. Just a week or so after the Coventry bomb, Great Britain declared war on Germany, and a year or so later our city was to suffer carnage on a much greater scale with the blitz of 14th November 1940. Perhaps these events helped play a part in effectively 'burying' the tragedy that took place in August 1939?
* * * * *
Part of the carrier cycle lying in front of the damaged car.
An excellent book called "Lost Lives" was first published in 1999. It attempts to record all those who died in the Northern Ireland 'Troubles' from the 1960s through to the ceasefires of the 1990s and beyond. It is an incredibly poignant and moving book which had me in tears on several occasions. Below I give a few details of Coventry's "Lost Lives" which were gleaned from contemporary newspaper reports and kindly provided by relatives:
Elsie Ansell, (also called Laura in Newspaper reports) from Clarendon Street, Earlsdon, died instantly. Her face was blown away and her body terribly mutilated. She could only be identified by her engagement ring and clothing. Instead of being married at St. Barbara's Church to her fiancé Harry Davies her funeral service took place there instead on August 30th. On top of her coffin was a wreath of cream roses from Harry. The coffin bearers were from the nearby Albany Social Club. A crowd of 600 to 700 people were at London Road cemetery to see her laid to rest. She was buried in her wedding dress.
John Corbett Arnott, from Daimler Road in Radford, was the youngest victim of the atrocity. After leaving Radford School he went to work for W H Smith in town. With his curly hair and glasses he was a familiar face to many Coventrians through selling newspapers and magazines at the store. At first it was thought his body was actually that of a Mr Hollander of Coundon Road as young John had a bill in his pocket for this man which he was due to deliver. He was buried at London Road cemetery on August 29th with around 100 mourners in attendance. On August 30th the Midland Daily Telegraph published this letter from John's mother:
Dear Mr Editor
Will you please print my thanks where you will, but I feel I would like to put into print my thoughts as well. The doctors and nurses tried to save my boy's life but God said "No."
The kind thoughts of the people go to help me bear my cross. We all have a cross to bear, and when I look at others plight, I feel my cross is only light.
To the kind nurses who took me to kiss him "Good-bye" thanks, and I'll always remember the youngest nurse's sweet face. God gave me these words in the loneliness of the night when his little sister was sleeping by my side. Once again thanks for all your kindness, I'll never forget.
Rex Gentle
Rex Gentle was born on 3rd April 1909 in Newtown, Montgomeryshire in Wales. He was an identical twin. He left Newtown, where he was engaged to May Jones, to do relief work at W. H. Smith. While in Coventry he lodged with the Arnott family in Daimler Road. Rex had only been in the city for a couple of weeks.
On the day of the explosion, his twin brother Jack was working in Newtown. In the afternoon he was sent home from work suffering from a severe headache. It is often said that when one identical twin suffers pain the other can feel it - Rex had indeed suffered severe head injuries.
After the explosion, word reached the Gentle family in Wales that Rex had been badly injured in an incident in Coventry. His parents could not travel so his twin brother Jack and his wife Rene made the unenviable journey to Coventry. On the train, Jack turned to his wife and told her that he knew his brother, who he was very close to, was dead - again, when he said this it turned out to be almost to the minute that Rex did pass away. When the couple arrived in Coventry a trial blackout was in operation in preparation for the probable forthcoming war with Germany. They could not find the hospital so approached a policeman, who, knowing about the bomb, took them there. Jack was needed to identify his brother but apparently passed out, so his wife Rene carried out the traumatic task. The body was covered in bandages and she identified Rex by his mouth. While they were at the hospital the manager of W.H. Smith paid a visit and had an almighty shock when he saw Rex's identical twin brother Jack - he thought it was Rex! The same thing happened when a sister of the twins in Birmingham was visited. Jack and Rene called on her to break the bad news. She opened the door with, "Hello Rex! What are you doing back here?" Jack explained that he wasn't Rex and informed her of what had happened in nearby Coventry.
Jack and Rene Gentle returned to Birmingham for the Coroner's inquest into the deaths. The report of the injuries suffered by the victims was so bad that Rene arranged for their relatives to be able to choose to leave the room while it was read out. She stayed and Jack left. Despite asking her about what she heard she never told him - the injuries being so horrific.
In 1966 the husband of Jack Gentle's daughter Marie was shown round the police museum at Little Park Street where the remains of the bicycle and some of the evidence gathered during the investigation are kept in a simple glass cabinet. It must have been an upsetting experience to say the least.
Rex Gentle, who was much loved by his family and fondly remembered by them to this day, was buried in Newtown after a service at the local Baptist church.
Gwilym Rowlands, of Poole Road, Radford, worked for the Highways Department of the Coventry Corporation. His wife Mary Ann had the grim task of identifying his body at the public mortuary at 5:00pm on the day of the explosion. His funeral service took place at St. Nicholas Church and he was buried in the adjacent graveyard. A large crowd of mourners were in attendance and the wreaths included one from the Radford Social Club and another from the Transport & General Workers Union, Cheylesmore branch.
James Clay, the eldest victim, was Coventry born and bred but lived at Clarendon Road, Kenilworth. A widower and a grandfather, he was a former President of the Coventry & District Co-operative Society and was working as a Confidential Clerk for C.A. Gray & Son, Printers, of Broadgate. James was a trained printer who took a keen interest in education, being a member of the old Coventry school board, founding the P.S.A. movement in Coventry and also was secretary of the Co-operative Society educational classes. He was also associated with Sunday school work at Warwick Road Church. His burial took place at Kenilworth cemetery on the August 30th and was well attended.