Page 3
The Ever Changing Face of Broadgate
Whatever the era, Broadgate has never remained static, - major changes were happening long before the 20th century turmoil. In the 1820s, old houses and shops on the west side of what was then a narrow street were pulled down in order to vastly widen Coventry's main north-south thoroughfare. The drawing below, made sometime before that widening, depicts a typical scene from the Georgian era.
The view above and early 1900s postcard below show broadly similar views looking northwards through Broadgate and down Cross Cheaping. The large advertising board showing "THE ROYAL" hotel to the right, marks the point where you could turn between Broadgate and Cross Cheaping into Butcher Row. At that point you would be facing Holy Trinity church.
Another point of interest, literally at the centre of this photo, is the Fire Escape Ladder. A Coventry Fireman has informed me that it was probably one made by Merryweather of London. The wooden ladder, capable of extending to 50 foot, was originally based at the then new Hales Street Fire Station, but after a fatality due to the time taken pushing the heavy thing up the hill, it was decided to station the ladder at the "top of the town" in Broadgate. It was the wife of William Burdett who died in the fire at the back of the famous Burdett Printer's shop in Cross Cheaping, ironically hidden from view behind the escape ladder in this photo.
A better view of that shop can be seen on this page of the Now and Then section.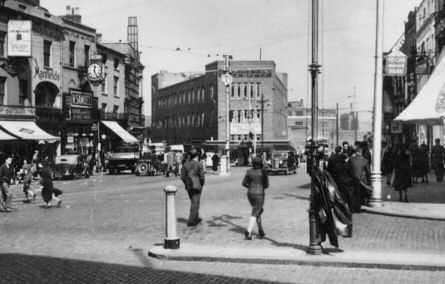 Move on just three decades, and the council had carried out their own brutal brand of modernisation with the demolition of the
Butcher Rows
, Ironmonger Row, Palmer Lane and part of Cross Cheaping. In their place by 1937 stood Owen Owen and Trinity Street, the result of which can clearly be spotted in this pre-1940 postcard.
Of course, within a year or so of this photo being taken, the new Owen Owen had become a burnt out shell, to be demolished soon after the war's end.
---
To see just how dramatically the scene altered, click the photo once to see how it changed after 14th November 1940 - and once more to restore it to around 1939....
---
In the 1970s, a person standing where the photographers would have stood for the shots above would see this view below showing the pride of post-war Coventry - Broadgate Garden Island.
Closer inspection of the colourful view above also reveals the approximate date that this photograph was taken. On the far right hand side of the image, just behind the bus, can be seen the partially demolished shells of the temporary shops on the east side of Broadgate. This demolition took place in March 1974.
The removal of these well loved shops was not all bad news, however; they revealed a long lost piece of Coventry history - a well. Many people remember this quite well, (!) and one such person is Melanie Heath, who also informs me that it was built in front of the Mayor's Parlour in 1703 using stone removed from a tower near to Cook Street gate, and had a pump placed over it. I'm very grateful to Melanie for this extra information.
---
I'd previously put out a request for any photos showing us that old well on Broadgate Island. I'm thrilled to say that Tony Swann has come up trumps and kindly let us all share his late 1980s photograph of the well.
Click the image to zoom in for a better view of the well.
It can quite clearly be noticed on the close-up shot that a course of stones, presumably sandstone, have been exposed by the 1970s excavations. Many such pieces of medieval evidence were revealed at that time - soon to be buried under a pointless shopping centre.
But please don't stare for too long at this beautiful scene.... it'll only make you more angry next time you visit Broadgate!
---
Tony Swann has also produced a wonderful gallery containing a fantastic selection of Coventry photographs of his own - particulary scenes that will never again be seen due to developments. The pictures on www.fotomedia.co.uk/coventry cover the period from the 1990s onwards, so will especially appeal to people who enjoy seeing the changes that have taken place in our city within living memory.
---
For the 2005 view below I had to take a few steps to the left, or else I'd have only been photographing the side of Cathedral Lanes shopping centre! The modern building itself isn't an ugly one, but it has two major flaws.... firstly - the tent outside which made a mockery of all that Broadgate stands for.... and secondly - it shouldn't have been built there in the first place!
The 2010 view of Broadgate (below) does at last herald one significant improvement (in the vast majority of people's eyes) - the removal two years' previous of the infamous tent. There's no getting away, though, from how tired the old square now feels, although currently (2011) there are advanced plans being drawn up for major alterations in time for the 2012 Olympic Games, for which Coventry will be providing the Ricoh Arena for some international football matches, and several smaller venues for training purposes.
It's June 2017 and preparations are underway for the display of classic cars in Broadgate as part of Motofest weekend. Major changes have taken place since the photo above, and as always they split public opinion. Broadgate is no longer a traffic island - as of 2012 it is a completely pedestrianised area.
Perhaps the most common criticism of the new Broadgate is that it is now almost totally bland; a vast expanse of concrete slabs, with only a handful of small trees and, of course, Lady Godiva to break the monotony. I certainly find it difficult to disagree with that, but if there's a bright side, it's that we now have an "arena" in which all these wonderful cars can be exhibited, as well as market stalls and music events from time to time. Perhaps a little landscaping and a few flower-beds wouldn't go amiss, though.