Page 4
The Nave & the Baptistery Window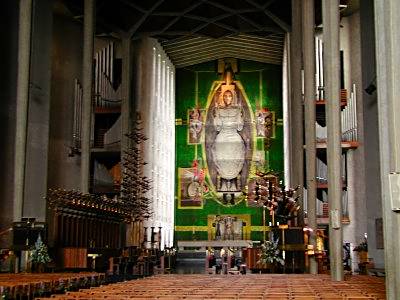 he most striking feature on entering the new cathedral is the 72 feet high Tapestry designed by Graham Sutherland. Wherever you stand in the building, the eyes of Christ appear to be looking in your direction.
The great tapestry was another example of a re-think in design. Basil Spence's original intention was to depict the Crucifixion but Provost Howard suggested that the subject be 'Christ in Majesty' and from there on, this idea prevailed.
Turning to your right, an extraordinary blaze of coloured light fills the view. The next photograph shows this 81 feet high Baptistery Window containing a total of 195 lights of stained glass in bright primary colours designed by John Piper, with the Stone of Bethlehem for a font just in front. Each individual window contains an abstract design, but the overall effect is breathtaking. Basil Spence himself designed the stone containing the glass.
From where you're standing, this appears to be the only window. However, although the stained glass side windows haven't yet come into view, at certain times of the day the sunlight passing through these will project beautiful coloured rays onto the angled side walls, which you may see by turning to your left.