For further information I have transcribed an eight page article
A PLAN FOR THE CITY CENTRE
from the 21-3-1941 Architect and Building News.
Page 7
Redevelopment Plan & Ring Road scheme
overing your mouse cursor over the old cathedral (marked "1") will magnify that part of the map. The pink part is the existing ruined shell of St. Michael's and the blue represents the design submitted by Sir Giles Gilbert Scott in 1944. (See an internal impression on the New Cathedral page.) Interestingly, this was also to have had a north-south orientation like Sir Basil Spence's design.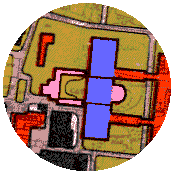 The planned cruciform shape of the precinct (marked "2") has never been tampered with, but this plan indicates that Spon Street (marked "3", shown in green dotted lines), didn't feature in those early plans. Thank heavens that it was saved. (To see what is now there, see the Spon Street Gallery.)
It's also apparent that the plans for the Inner Ring Road were quite solid by 1945. The final product built around twenty years later was not too different from this original idea, although rather than a series of traffic stopping islands, we now have slip roads to aid the flow. The present day Ring Road does actually work extremely effectively.... if people use it properly!
However, the original intention was to have three ring roads to aid traffic flow around Coventry. A second ring about a mile further out from the centre was proposed plus an outer ring as a bypass. This plan only reminds us of just how half-heartedly these big jobs are usually tackled. Of the second and third rings, a modern map shows about three quarters of each in existence more than fifty years later.
The proposed map of 1945 on the left shows us what was intended - it's only in recent years that the Eastern Bypass from Walsgrave to Tollbar End has got us close to these old plans.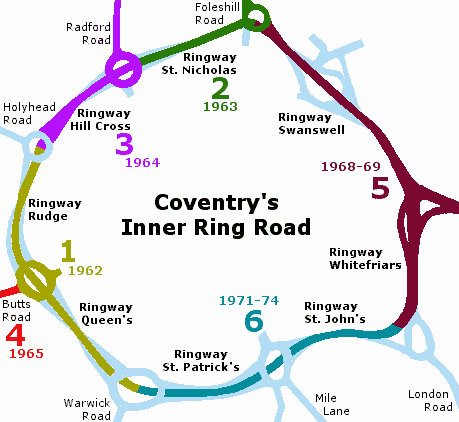 The simplified map on the right shows the various stages of construction for the Inner Ring Road. (The information was taken from Coventry Heritage Pamphlet No. 26 - "Engineering the Development of Coventry" by former City Engineer, Brian Redknap.)
An astonishing amount of research and cutting edge development went into the building of our Ring Road. People generally imagine that it was thrown together as a way for traffic to bypass the city centre, but it was a project with no direct precedent, necessitating much in-depth research to work out average and peak traffic flows, optimised junction planning, an ever increasing number of vehicles on our roads year by year, and many more considerations.
One extremely ambitious scheme that never came into fruition, was to link each high-level junction to roof-top car parks. This might have considerably eased road congestion within the city centre, but the idea was eventually ruled out due to the enormous cost.
Amongst other things that sadly had to be dealt with, was the destruction of whole streets.... over 700 houses went under the bulldozer to make way for the new road scheme. Also, many people who lived through this anxious, yet exciting, period of change, would have deeply lamented the disappearance of many formerly pleasing views - for instance across Greyfriars' Green and Warwick Road.
Overall, however, I certainly feel that the Ring Road is more a story of success than failure - but that is only my opinion - it has aroused some strong feelings from users over the years!

You can read an astonishingly detailed report, including a video trip, on our Ring Road on this website: - http://www.cbrd.co.uk/articles/coventry-ring-road