---
s well as being a great source of old photographs, postcards can also provide an useful insight into the opinions of visitors to our city. A few candid words will quickly betray their thoughts, giving us the objective view of a neutral observer. It is also interesting to study the handwriting, the sentiments and the humour used by folk in decades gone by.

---
c1900: St. Michael's Church - like a cathedral!
have Patrick Casey to thank for sending me this fine Valentine's postcard showing a photograph of St. Michael's Church taken in 1889 - some years before it was raised to cathedral status in 1918. The writer of the postcard below obviously would've agreed with its "promotion"....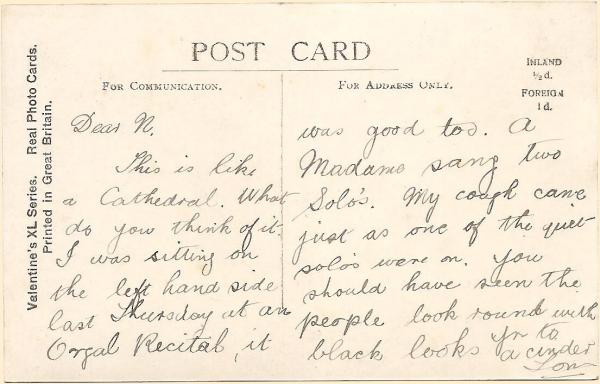 ---
Postcard text: This is like a Cathedral. What do you think of it? I was sitting on the left hand side last Thursday at an Organ Recital, it was good too. A Madame sang two solos. My cough came just as one of the quiet solos were on. You should have seen the people look around with black looks. Yrs to a cinder, Son.
---
The sort of thing you'd expect to see in an episode of Only Fools and Horses!