Early working days of Barry Page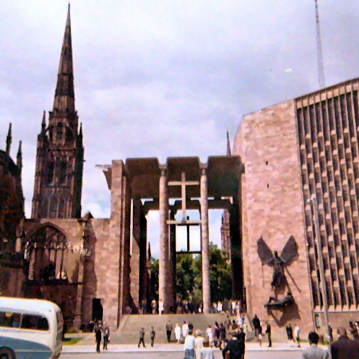 Entrance to the New St. Michael's Coventry Cathedral, June 1965.
lthough I wasn't born and bred in Coventry, I lived in the city for six years (1967 to 1973) where I first started working in my chosen profession. My hometown is London and, until age 21, I lived in a working class neighbourhood near Highbury, Islington. My first visit to Coventry was in June, 1965, with a group of members of the Islington Art Circle, an association that had Sir Basil Spence as its patron-in-chief. Sir Basil, of course, was the architect of the new St Michael's Coventry Cathedral. I recall we had a very pleasant, sunny day visiting the cathedral and city centre, and I was most impressed with the reconstructed Broadgate and Precinct areas. At that time, I was unaware that I would soon be living not too far away.
The opportunity to move on in life came late in 1967. After an unsuccessful attempt to secure a job in Canada, I looked around in earnest for a position elsewhere in England where I could develop my ambition to progress within the field of technical publications.
At my father's prompting, I wrote a letter to Coventry Climax Engines Limited and, on the strength of that letter, I was granted an interview with Mr. A.R. (Bert) Harman, the Technical Publications Manager. The interview was successful and I was offered a job with a wage in excess of £5.0s.0d per week more than what I earned in London.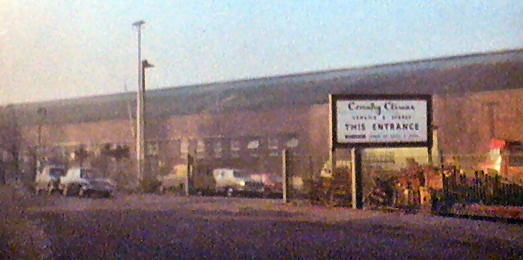 The Coventry Climax Offices in Kingfield Road.
The die was finally cast to begin my lifelong career in technical writing: the bonus being that I was obliged to leave home and fend for myself - for it was time to do so.
he early days were, of course, quite challenging. I had steady and interesting employment in what I considered to be a very progressive city. Domesticity for a 21 year old bachelor also progressed in stages: from humble beginnings as a guest at the "Holly Bank Guest House" on Foleshill Road; a lodger with Mrs. Armstrong in Dorset Road, a side street off Kingfield Road, to a furnished room at No. 40 Spencer Avenue in Earlsdon - my bachelor pad for eighteen months.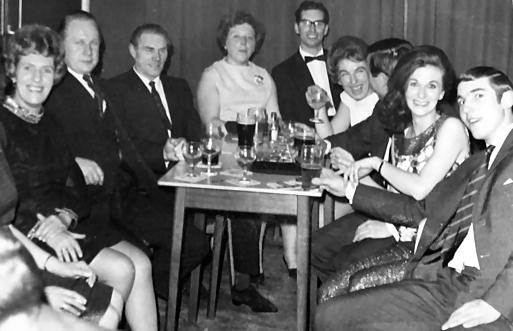 Coventry Climax Staff Party.
This initial period was not only my baptism of fire in self-sufficiency, but also one of making adjustments to new surroundings, cultures and accents. Although I had travelled throughout England on various vacations, and regional differences were not unknown, this was the first time I had stayed in a place other than London for a long period of time. Suddenly I had to develop an 'ear' for the local twang, which for a die-hard Cockney took more than a little practice. In those days, being accepted as a Southerner in the Midlands needed some work too, especially in a close-knit manufacturing community.
Still, relationships with my colleagues: Bert Harman, Roy Baker, Ray Turnecliffe, Kevin Foxon, Dave Payne and Nigel Pratt were most cordial. Shop floor workers like Cyril, Pete, Ray and Les went the extra mile to help me; although I did fall afoul of "Bed'rth" Bill, the track foreman, once or twice. After hours relaxing or staff parties at the "Jag" sports and social club were always fun occasions.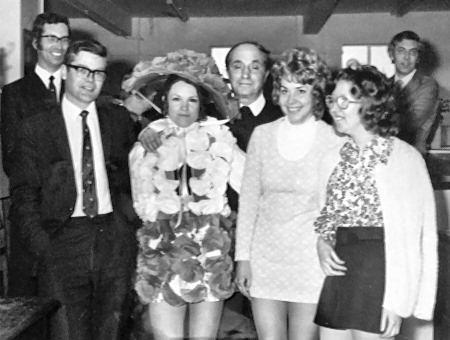 Barry Page with Rolls Royce Colleagues Colin Simco, Barbara Drummond, Ted Mitchell, Lynda Prosser, Ann Burrell and Bob Bennett, May 1973.
Working at Coventry Climax Engines provided an excellent foundation for pursuing my new career. But I was still ambitious and started to look for pastures anew. Another opportunity arose when, through a chance meeting in 1969, I was able to move on within my profession. One day, I met Des Harris, the Technical Publications Manager at Product Support Graphics (PSG), a subsidiary of Rolls Royce's Industrial and Marine Gas Turbine Division based at Ansty just to the north-east of Coventry. Des needed to expand his technical writing team because PSG had been awarded new contracts with Dunlop Tyres and the Ministry of Defence and, following an informal interview, hired me on his staff. This was a considerable boost, not only in salary, but also as a means of expanding my technical writing horizons. Also I had, by that time, graduated from post-secondary education with a City and Guilds of London Institute certificate qualification. PSG's working environment was relaxing; almost 'clubbable' and colleagues such as Colin Simco, Roger Moore, Ted Jones and Tom Lyons became good friends.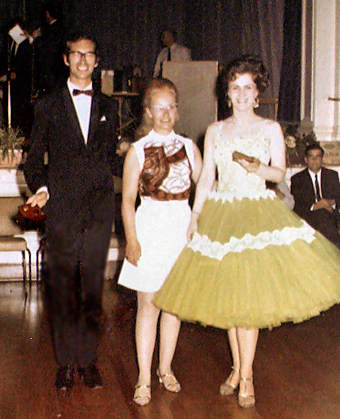 Barry Page and Gail Lydster with Dancing Awards.
During my six years living in Coventry, social life was anything but dull. I did my share of pubbing and patronising working men's establishments, such as the London Road W.M. Club and Wyken W.M. Club, but my main diversion in the evenings was ballroom dancing. I had been introduced to the pastime by a former girlfriend in London and, in order to make new friends, I immediately sought out a dancing academy when I arrived in Coventry. I was pleased to find the "Mercia School of Dancing", owned and operated by Hetty Armstrong, in New Buildings, down the road from Trinity Street and Broadgate. Apart from exercise and social intermingling, ballroom dancing also attracted a nicer 'class' of girls, several of whom I developed serious relationships with.
Triumph Herald Convertible Sports Car.
Life was very good. My employment was top notch, lucrative and secure; I had moved into a high-rise apartment building and furnished my flat as I wanted; and I had a wide circle of friends plus a convertible sports car that provided me with many adventures - with and without the female interest. However, I still had one more burning desire, which was to emigrate. England in the early 1970s was suffering through industrial unrest of huge proportions, inflation was rampant, crime was on the rise and the country was becoming overcrowded. It was time to do some serious homework and create an opportunity to improve my lot.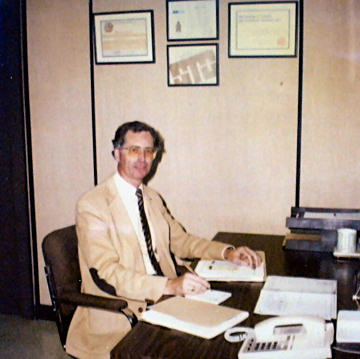 A New Life in Canada.
hat opportunity came unexpectedly. After several months of fruitless efforts trying to secure a job in South Africa, Australia or New Zealand, I happened to glance over the shoulder of a colleague who was reading the Situations Vacant column in "The Daily Telegraph." One of the prominent adverts described a recruitment drive for engineering professionals including technical writers. The prospective employer was United Aircraft Company of Canada Limited. On the spur of the moment I answered that advert, attended an interview and was hired on the spot. This was August, 1973 and, three months later after all the formalities had been finalised, I left Coventry to start a new life in Montreal, Quebec, Canada.
However, this wasn't the end of my Coventry connection. In 1974, I returned to England for a short vacation and, on Valentine's Day, proposed marriage to my girlfriend who was still living there. That's right, a real Coventry kid, Monica (nee Papworth). She and her parents lived on Broad Lane and we had been courting for about eight months. The upshot of the proposal meant that I sponsored Monica as a landed immigrant to Canada, and we were married on July 12, 1974 in St. Mark's Anglican Church, Longueuil, Quebec.

In 1976, we moved to the small town of Goderich, Ontario, where I continued in my chosen profession until taking early retirement. We still communicate with friends who live in Coventry and the surrounding area, often reminiscing about the old times when living and working in the city were, to us, the halcyon days of yesteryear.
---
For those wishing to read more, Barry has been writing his memoirs over the last few years, and has kindly made them available online:
Just an Ordinary Boy: The childhood memoirs of Barry J. Page
Just an Ordinary Bloke: The memoirs of Barry J. Page
Just an Ordinary Retiree: The retirement memoirs of Barry J. Page