Who are all these children outside the Munition Cottages?
he Munitions Cottages have been discussed on this site in the past (on this postcard page). However, this time we'd like to know if anyone recognises any of the children pictured in this beautifully captured piece of people history. The photograph was taken around 1934, and has been kindly sent to me by Janet Anne Jackson, whose family form part of the group.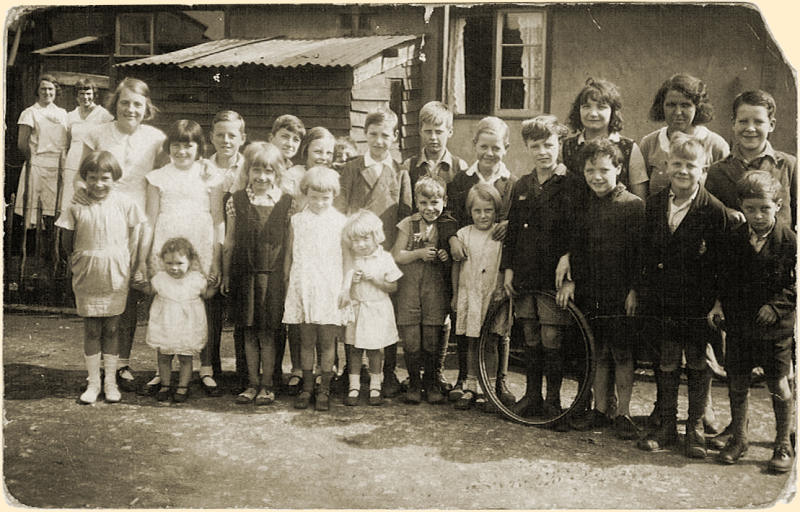 I'll now leave you with Janet's own description of who she has already identified in the picture:
"My Mum is the small child front left, Jean Cynthia Nicklin. Holding her hands is her sister, Muriel Annie Nicklin.
My grandma - the Mrs. Nicklin from the postcard you already have on the site - is the lady in the background, far left, Ellen Teresa Nicklin. They lived at 92 Munitions Cottages. She is standing with her eldest daughter, Doris Ellen Nicklin.
"The small photo (below) shows my granddad, Albert Nicklin, with Muriel in the pram and Doris the eldest child standing beside him."
"The Nicklin family moved from Stoke on Trent to Coventry in 1921 into the cottages. My granddad's three brothers all moved here at the same time with their families, together with my great grand parents, Henry Francis Nicklin and Rachel Nicklin.
"My grandparents moved out during 1936."
If anyone recognises someone in the first picture, or has anything to contribute towards this or any other mystery, please write to me to share your story.
---
Update: 8th March 2018
Some wonderful news after all this time - Diane Delahunty has been in touch to let us know that....
"I was delighted to see the photos from munition cottages as the people in the photos were my fathers cousins. I was a Nicklin before I married. My Grandad was called Arthur Nicklin. Albert was my Grandads brother."
Thank you so much Diane for filling in a bit more of our city's amazing history. If you see this, please can you get in touch again Diane, because I didn't have any luck trying to reply to your email address.