Where are the Godiva Harriers?
(Solved)
olin Kirkham has let me use this lovely group photo of the Godiva Harriers for this particular "mystery". And the puzzle we'd like to solve is - where was it taken?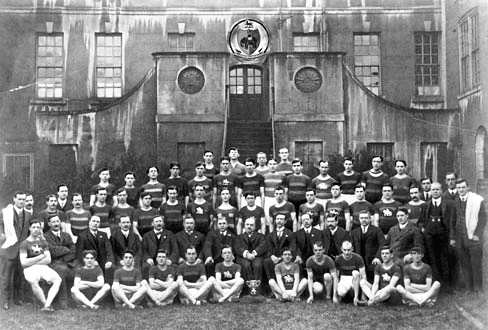 Colin informs me that the photo was taken in 1913 to celebrate Siegfried Bettmanns mayoralty... he's the one in the centre of the group. The cup in front of him is the Bettmann Trophy that he gave to the club. Siegfried was president of the Harriers for some time, helping the members in several ways; health insurance, employment, etc.
Two strong possibilities have been sugested; either the Cow Lane Chapel, or the Great Meeting House in Smithford Street. Of course, not only the building, but indeed both of those streets are no longer part of Coventry's history.
---
Once again, we have Vic Terry to thank for his part in solving this particular mystery photo. It is a location about which he has been enquiring for some time, as he has a photo of his father in the Church Lads' Brigade outside the same building.
In turn, we have local author, David Fry to thank for finding the answer to Vic's quest in an extremely unlikely place - The National Monument Record Collection in Swindon - where he discovered pictures of The Priory Assembly Buildings, behind number 11 Priory Row.
Colin Kirkham has pointed out an additional photograph of interest, which has been posted in the Forum Gallery by member "Estelle". Her photo shows a Swimming Club in 1914 using the now familiar Priory Assembly Buildings as their backdrop, and revealing a little more of the building itself.