Who are all these children outside the Munition Cottages?
he Munitions Cottages have been discussed on this site in the past (on this postcard page). However, this time we'd like to know if anyone recognises any of the children pictured in this beautifully captured piece of people history. The photograph was taken around 1934, and has been kindly sent to me by Janet Anne Jackson, whose family form part of the group.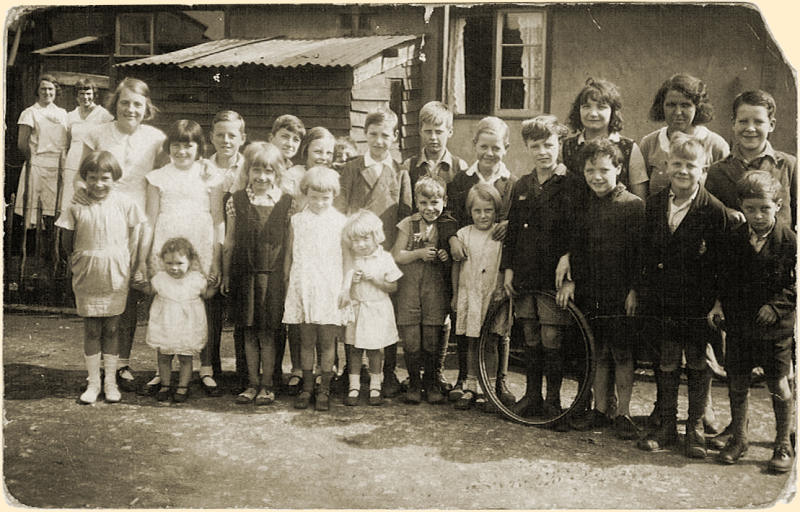 I'll now leave you with Janet's own description of who she has already identified in the picture:
"My Mum is the small child front left, Jean Cynthia Nicklin. Holding her hands is her sister, Muriel Annie Nicklin.
My grandma - the Mrs. Nicklin from the postcard you already have on the site - is the lady in the background, far left, Ellen Teresa Nicklin. They lived at 92 Munitions Cottages. She is standing with her eldest daughter, Doris Ellen Nicklin.
"The small photo (below) shows my granddad, Albert Nicklin, with Muriel in the pram and Doris the eldest child standing beside him."
"The Nicklin family moved from Stoke on Trent to Coventry in 1921 into the cottages. My granddad's three brothers all moved here at the same time with their families, together with my great grandparents, Henry Francis Nicklin and Rachel Nicklin.
"My grandparents moved out during 1936."
If anyone recognises someone in the first picture, please write to me. Meanwhile, here are updates for this mystery photo, newest at the top....
---
Update: 27th May 2021
Once again it's my privilege to receive further assistance in the recognition of these children, this time with kind help from Sylvia Wardle, who would like to share this with us....
"The young girl fourth in on the left, looking up shyly, is my late mum, Ivy Riley (married name McLeod). The girl third in on the left is her sister, Irene. Peeping out behind Irene is my mum's half-brother Edward (Ted) Jones, and behind my mum is either her sister, Beryl, or her half-sister, Theresa."
---
Update, 30th March 2021
Steve Larkin has sent in a photo that might provide a clue to the identity of one lady, while also hoping to learn more about the others pictured. His gran, Edna Edis Blewitt, is on the front row below, next to the young girl in this holiday group taken around 1936. However, the lady next to her, second from right, also appears to be the same lady in the first photo above, back row, second from right. Does this help anyone to recognise them?
---
Update: 11th October 2020
A lady named Lynne has written, informing us that as she recalls there were three rows of terraced cottages, named Colony, Munition and Corporation, with either Munition or Corporation being closest to the railway tracks. Lynne would also like to share with us the memories of her auntie....
"My Auntie Irene (nee Clarke) used to tell me stories of her early years spent in Colony Cottages, close by to the Munition Cottages. One of a large family consisting of six sisters and two brothers, although poor, she said they were happy and she loved singing. Irene was introduced to the Salvation Army who used to visit in a hut close by. After living there the family moved to St. Luke's Road, Holbrooks."
---
Update: 9th November 2018
And within a very short time, the charismatic photograph has attracted the attention of another living relative of the group, Clive Connelly....
"Hi, I have just come across this photo. My late father, Arthur Connelly (second from left back row) with his brothers, Mark and Paddy (seventh and eighth from left back row). I would say that the year (1934) is about right, as my dad would have been about thirteen when the photograph was taken. Mark, his brother, was the eldest, and Paddy the youngest of the Connelly clan. Nice photograph. Sadly all deceased now."
---
Update: 4th November 2018
We're fortunate to receive another memory from someone else with a family connection to the people in these cottages. Evelyn Cantrill has this to add....
"My mum, Ena Nicklin, lived in munition cottages as a child. She was cousin to Muriel and her sisters, whom she quite often talked about when I was young. Her dad was Arthur, brother to Albert, married to Millie Nicklin, who came up from Cornwall to work in the munitions factory as a young woman in WW1."
---
Update: 8th March 2018
It's a pleasure to bring you our first response to this page - Diane Delahunty has recognised some of her relatives in the wonderful photo at the top of this page....
"I was delighted to see the photos from munition cottages as the people in the photos were my father's cousins. I was a Nicklin before I married. My Grandad was called Arthur Nicklin. Albert was my Granddad's brother. My mum and I think that the boy on the right at the front may be my Uncle Joe. We are not sure but my mother has a photo of him when he was about five, and it looks very like him. Unfortunately, he tragically died when he was fourteen while swimming in Cornwall."